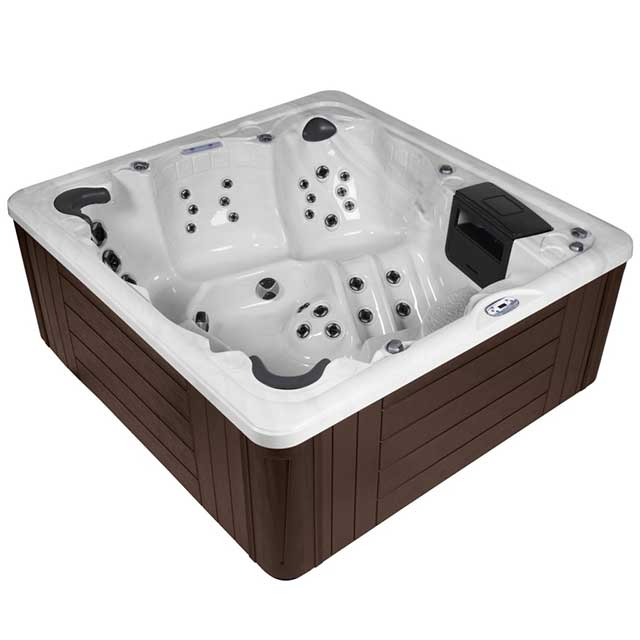 Above The Rest Pool Service and Installation is proud to add the Equinox line up of hot tubs to our available products. Available in 4 unique models, the Equinox hot tub comes in three acrylic and cabinet colours to mix and match, and provides perimeter lighting with beautiful built-in waterfall features. With four hot tub models to choose from, you can decide between seating for five to seven, between 30 to 44 hydrotherapy jets, and convenient plug and play options.
Equinox hot tubs provide an elegant style that adds to your patio, giving you the comforts of a premium spa conveniently in your own backyard. With the sounds of a running waterfall, comfortable seating, and multi coloured spa lights, your Equinox hot tub will bring comfort and style all year long.
Feel relaxed and reassured with the outstanding warranties provided that protect all of our Equinox hot tubs.
Lets add to your paradise!
---
EQUINOX 630L – 110V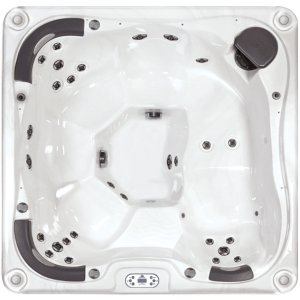 79″ x 79″ x 34″
293 gallons / 1,108 litres
4 Seats and Lounge
30 Two-Tone
One 1.5HPR Dual Speed Jet Pump
Polyethylene Capped Base
Galvanized Steel Frame
Maintenance Free Polysteel Cabinet
GreenGuard ROXUL Insulation
Acrylic Interior with Fiberglass Shell Construction
50 Sq.Ft. Filtration
1Kw Heater
Balboa Electronic Controls
5″ x 3″ Tapered Thermal Cover
Two Water Spouts
LED Main Light and LED Perimeter Lighting
LED Lit Cupholders
Plug and Play GFCI Plug Kit Installed
Standard Colour Combination
Custom Acrylic Colours
Custom Cabinetry Colours
---
EQUINOX 630L – 220V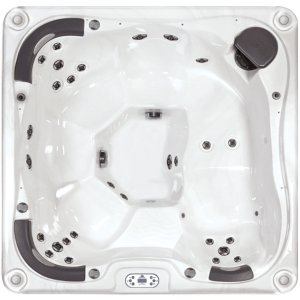 79″ x 79″ x 34″
293 gallons / 1,108 litres
4 Seats and Lounge
30 Two-Tone
One 4.5HPR Dual Speed Jet Pump
Polyethylene Capped Base
Galvanized Steel Frame
Maintenance Free Polysteel Cabinet
GreenGuard ROXUL Insulation
Acrylic Interior with Fiberglass Shell Construction
50 Sq.Ft. Filtration
4Kw Heater
Balboa Electronic Controls
5″ x 3″ Tapered Thermal Cover
Two Water Spouts
LED Main Light and LED Perimeter Lighting
LED Lit Cupholders
Standard Colour Combination
Custom Acrylic Colours
Custom Cabinetry Colours
Custom Acrylic Colours
Custom Cabinetry Colours
Custom Cabinetry Colours